Welcome to Marketing by Marcia!
I am Marcia Jane Macres, and I am passionate about music and marketing! So why not combine the two!
My mission plan is simple...CONNECT PEOPLE WITH GREAT MUSIC EXPERIENCES!
Music has always had a huge presence in my life. I believe the power of music brings people together. Using my 25+ years of marketing experience with large corporations and multiple start-ups, as well as being a musician all my life, I can help artists and venues gain a broader audience with my marketing strategies and campaigns, branding, websites, social media presence, digital marketing, press releases, graphic design, etc.
My reasonable project-based pricing allows my clients to use me as an outsourced resource tool vs. an employee with overhead costs. 
Let me help you with your music marketing so you can grow your audience and spend more time making music.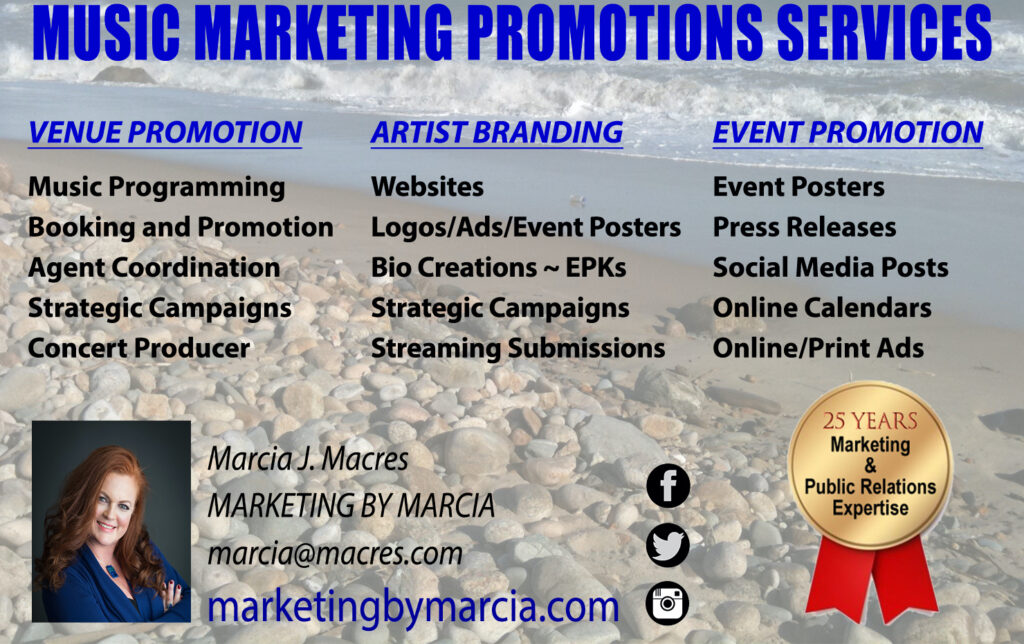 25+ Years of Marketing!
Places I've worked include:
Marketing by Marcia (Simplifying Marketing for Small Businesses and Music Artists, Bands, Venues)
Parish Center for the Arts (BOD, promotions, booking and producing jazz/rock/blues bands)
Performers on the Go (Music Coaching, Blogger)
Westford Business Association (BOD, Marketing/Communications)
Trinitarian Congregational Church (Website/PR/IT)
The Real School of Music (Marketing)
MJ Communications (Marketing Communications)
Rainier Communications (Public Relations)
DSP Software Engineering, Inc. (Marketing Communications)
Raytheon Corporation (Defense, Maverick and Patriot Missile Systems Division Marketing)
Texas Instruments (Defense, Advanced Power Supplies Purchasing)
Marketing Tips by Marcia
<p>
The Importance of Social Media, Websites, Building Your Audience and Email Marketing